And lunch, and even breakfast.
It started about a week ago, a friend posted a picture of a steak on her Facebook status. I was drawn to it, salivating, suddenly finding myself drawn in by food rather than repulsed by it. It was fleeting, though, as I haven't been much of a steak eater lately. But I sat there, flipping through the channels, and ran across the PFPW Channel (Porn For Pregnant Women), also known as The Food Network. That Sonic the Hedgehog looking guy was making BBQ brisket. The way he poured the sauce on it, the way it dribbled through all the cracks of the meat, the way the bun soaked it up, I was ENTRANCED. It was 10 pm and I NEEDED a BBQ brisket sandwich.
I didn't get my fix until the next day when, exhausted and wondering what the hell I was thinking deciding to go to the zoo when it was 95 out, we walked into a cafe near the lion exhibit. I nearly crawled over the people in front of us in line when I saw they had BBQ beef brisket sandwiches on the menu. It was, like, the best sandwich of my life. I did not share one single crumb. I threw fries at my child to keep him at bay.
Over the next 48 hours I consumed 3 more BBQ beef brisket sandwiches, each as heavenly as the last. As I type this, I want nothing more than another BBQ brisket sandwich.
Tonight, I was craving straight up bovine. Yeah, you buddy.
I wanted a fat hunk of red meat. It's all I could think about. We attended a lovely little birthday party today, complete with delicious cupcakes which I wanted nothing to do with because they were not bleeding and did not, at any point in their previous life, moo.
It was a Code Red Alert on the way home. We pulled off at Outback Steakhouse, where I indulged in a fantastic medium steak, like this…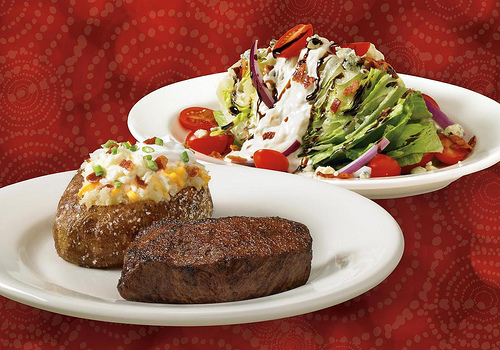 It's uncontrollable. I'm unstoppable. There is not a walking piece of beef safe from the desires of my fetus. And let me tell you, the fetus does not care if the cow was a happy cow, if the cow was fed organically, if the cow fell asleep on a lush bed of hay. The fetus laughs at my attempts to "eat local" and "reduce meat consumption." The fetus WANTS BEEF NOW.
I'm 12.5 weeks pregnant, and OMG, this post is making me hungry… again.
---
50 Things to Do Before You Deliver: The First Time Moms Pregnancy Guide
Available now: Amazon | Barnes & Noble