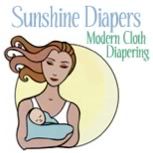 I know I've been talking a lot about poop on here lately, but let me take that subject on a different tangent and talk a little about cloth diapering a toddler.
Let me just say that last year we went through some rough patches. It all started around watermelon season near his 1st birthday. The kid LOVES watermelon as much as he loves oranges. It's wonderful that they alternate being in season. Both, unfortunately, can give him a bad rash- the watermelon more than the oranges. He developed a TERRIBLE, bleeding rash around his birthday that we had to get a special, compounded prescription diaper cream to clear up. I'd always been careful about what diaper creams I used with his diapers (only Aveeno and Burts Bees up to that point) because I knew they could cause build up on the diapers. Of course, I had no choice with the prescription. Soon his diapers began leaking and repelling.
I stripped with Dawn (LOLOLOLOL I crack myself up every time I type that), but looking back I don't think I did it right the first time around. I didn't get the water hot enough, and I didn't do enough rinse cycles. And even after I successfully stripped them of the built up residue from the cream, we were still having leaking issues. It was extremely frustrating. We did a lot of traveling during the last half of the year and used disposables for that. We found ourselves using them at home more and more because they were just more reliable than his cloth diapers.
I'm sort of embarrassed to tell you all what finally fixed the issue for us, but really, since when have I ever protected my pride on this blog? A Twitter friend asked if I was sure we were getting the diaper in the crease of his legs and butt cheek, like really making sure we were fitting him snugly there. Yeah, turns out we weren't. Ever since we've started taking the time to really make sure they are snugly sitting right in the crease of his legs, we've cut leaking down to almost non-existent. So there you go.
Another issue we've run into is that most of his diapers have Velcro closures. He's smart, he's strong, he's dexterous, he rips those bad boys off whenever he thinks of it. You're all aware of this because I've told you the stories of the runaway turdlets.
So when my friend Rhea at SunshineDiapers.com (the one with the kickass Kissaluvs rental program for newborns) offered to send me a Flip Diaper and some inserts (including disposable inserts) to try out, I jumped at the opportunity for several reasons. First, they are made by the same people who make Bum Genius diapers, which, despite the issues we've had in the past (mainly user generated), are our favorite cloth diapers and make up 90% of our stash. Flip diapers, unlike Bum Genius 3.0 pockets, have a snap closure instead of Velcro, making it a little more difficult for toddlers to undo them themselves. They also have the option of using a disposable insert, which would be perfect for travel or for the times we have to use prescription diaper cream for inevitable fruit induced butt rashes.
I received one cover, a pack of disposable inserts, an organic insert and a Stay-Dry insert. We've kept these in heavy rotation over the last couple weeks, and I'm happy to report that I really, truly do love them. Honestly, I didn't know if I would, but they definitely surpassed my expectations. Even Scott is on board with them.
Okay, so let me see if I can explain how this diaper works. It's basically a cover, with a little bit of a panel inside the front and back of the diaper. You lay the insert in the diaper and tuck it under each panel, then fasten just like you would any other diaper. It's like a hybrid between a pocket diaper and a fitted diaper with a cover. The idea is when the insert is wet/dirty, you just need to remove that and replace with another insert, while reusing the same cover.
This seemed to work with all three inserts most of the time, unless the poop was loose or runny. I found of the three inserts the organic did the best job of keeping the poop contained and off of the cover since it's the widest. The disposable was the worst performing when it came to this because it's pretty narrow (I'd say it managed to keep the poop contained about 50% of the time). However, I read on Flip's Facebook Fan Page that they will soon be offering disposable inserts that are wider and longer (read more here).
I still feel like the disposable inserts, even if I have to replace the cover more often, are an awesome option for us, especially when it comes to traveling (or for those of you looking for a "middle ground" between cloth and disposables full time). The cost of Nature Babycare disposables (which are comparable to Flip inserts in terms of being free from nasty chemicals and biodegradable) from Amazon.com, in bulk shipments work out to be about .37 a diaper, and at $4.95 for a pack of 18 inserts for the Flip, you're only paying .27 an insert. Sure, there's the cost of the cover, but ideally, even if the poop gets on the cover half the time, you should be able to get through with 3 or 4 (if you are planning to use them full time), in my opinion, and that's a one time purchase.
As far as absorbency of pee goes, I was happy with all three inserts. I used all three during naps with no problem, and at night I used the organic wrapped around one of my hemp doublers. It worked like a charm. In fact, that's what Kendall wore to bed last night. Here's a picture of him shooting some hoops before bed with his extra fluffy butt.
I will say that I'm on the fence as to whether the snap closure is a pro or a con. Originally, I thought it would be much better than the Velcro that is so easy for Kendall to undo himself, but it turns out it's harder to get the diaper fastened while struggling with a kicking, squirming, screaming toddler. That's really one of the great cloth diaper debates, though, and certainly not exclusive to this brand of diapers. Velcro versus snaps seems to be more of a personal preference.
I will also add that these covers, just like the Bum Genius 3.0 pockets, are made to grow with a baby. They claim to fit from 7 to 35 lbs, though I'm not sure how they would work on a newborn. I think the inserts would be too bulky, although the disposable inserts might actually fit nicely. I, of course, do not speak from experience on this.
Finally, another perk of this system is the decrease in cloth diaper laundry since you are just washing inserts. I love that you don't have to pre-stuff like pockets, and it also takes up a lot less room in the diaper bag to just toss a few inserts in versus a few stuffed pocket diapers, or even fitteds.
Overall, a glowing review from us, and I genuinely think this system could be a great way to dip your toe in the pool of cloth diapering if you're thinking about giving it a shot.
So now on to the fun part- the giveaway! Rhea is giving one Flip cover, two cloth inserts and a pack of disposable inserts to one lucky winner. She's also created a 10% off coupon code just for my readers for whatever you'd like to order from SunshineDiapers.com. Just enter "BABYRABIES" when you check out.
Here's how to enter:
(Note- there are several ways, and I need you to leave me separate comments FOR EACH thing you do, please.)
1. Comment telling me why you do or why you don't currently use cloth diapers
2. Become a fan of Sunshine Diapers on Facebook
3. Tweet the following – "I just entered to win a Flip Diaper pack from @SunshineDiapers on @BabyRabies"
4. Follow @SunshineDiapers on Twitter
5. Follow @BabyRabies on Twitter
6. Become a fan of Baby Rabies on Facebook
You don't have to do all those things, but each one earns you an additional chance to win (as long as you leave separate comments!).
I'll draw the winner with Random.org toward the end of the day on Friday, February 5th.
A big thanks to Rhea and Sunshine Diapers for sponsoring this review and giveaway!
Kendall is almost 21 months old, that's 21 months of cloth diapering so far.
Contest is closed. Congrats to commenter #199, Adrienne!
---
50 Things to Do Before You Deliver: The First Time Moms Pregnancy Guide
Available now: Amazon | Barnes & Noble